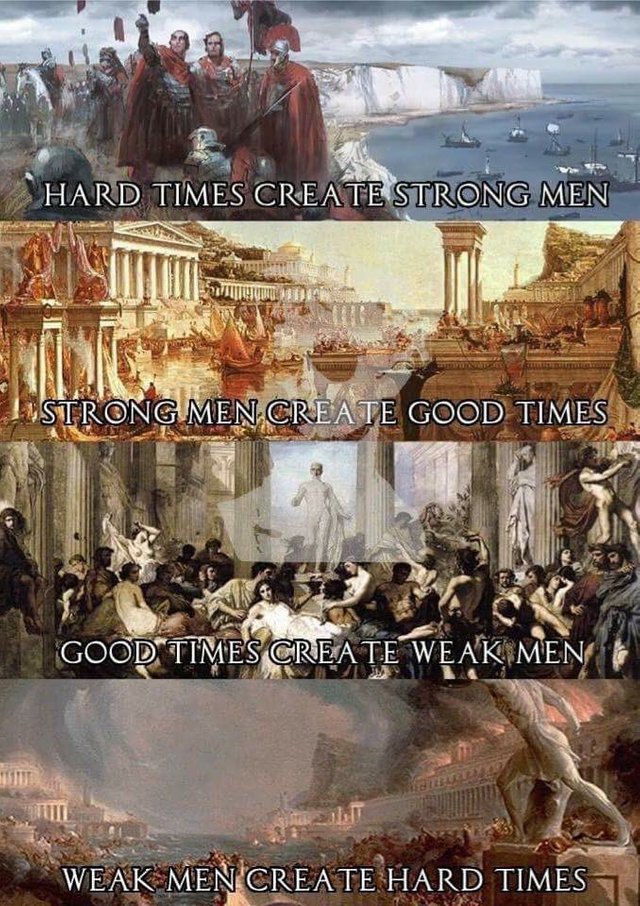 Quote: "Any life when viewed from the inside is simply a series of defeats." — George Orwell
But what prompts the inevitable societal decline of any civilization or locus of civilizations?
There are several taxonomies of factors involved. First, there are immediately discernible causes, which are plain to see for almost everyone. One has to be given to empirical observation to glimpse into their basic simple causal nature. Second, there are root causes. While the former are easily or more easily detected, the latter spread across many decades or even centuries. A multi-generational effort is required, resources must be allocated to detecting the increasing number of events or complex causalities whose effect is compounded.
This regression is never linear, and it is almost never rapid. Some societies manage even to climb on top of others who having fallen behind, do not realize that they are quickly becoming the foundation of those who are merely delaying the inevitable by committing callous acts of self-survival.
Let us consider for a moment 21st century Western society which spans the entire world. This is true since even though there are still many political systems, most of which have conflicting values (i.e. human rights vs. state supremacy over the individual, etc.), there is only overarching economic and social system: capitalism.
Virtually all states are capitalist economies based on supply and demand, the free market, free floating currency. Some are tightly regulated, and even come close to being command economies, but since none exist that do not communicate with the capitalist investment flows and the laws of the free market, how can they truly be command economies.
Capitalism is the ultimate source of the corruption that leads to the downfall of civilizations. It is also the source of economic life that allows people to survive, progress materially, and devise new means of productions, discover new resources, unleash new forms of energy. Capitalism is dichotomy: it can be both Alpha and Omega of any civilization.
Capitalism's most nefarious means of perverting its potential for nurturing billions is human greed. We are by definition self-serving predators, with a powerful will to survive despite all odds and we value our lives higher than we value the lives of others. When the survival instinct is allied with capitalism, the results are catastrophic. Virtually all major and minor economic crises stem from a combination of greed, self-serving predatory instinct, and a failure to regulate human behavior to protect the interest of the many against the rapacious covetous inclinations of the few.
I am not advocating for communism. I am advocating for a lawful society that will hold public interest above that of the rich. Failure to act in this respect will only lead to the disintegration of the social contract.
Another nebulous and insidious portent of civilizational collapse is the transformation of the moneyed classes into political elites, which are by definitions gentrified and closed to other classes, because an elite will always define itself as better than the competition (middle classes, working poor, proletariat). Hence, any elite will seek to reinforce its status as the guiding ruling class to the disadvantage of other members of the body politic.
This is in a nutshell the process undergone virtually in the last 250 years lapsed between the American Revolutionary War and the present. The political elites will coalesce and give birth to a New World Order seeking to control a number of things.
Access to power –>
Increase their stranglehold on power using different premises such as democracy, "free elections" whereby the political candidates are carefully selected and vetted by the establishment. They are given free rein in matters lacking consequence while the nexus dispenses the ukases advancing their agenda.
The Elite will use any means necessary to pervert the Truth about their ultimate intentions. They will engage in manipulation, curbing free speech, introducing population control, control access and quality of education. All this will be done in order to protect civil society against disturbances (i.e. terrorism, nationalism, free speech, freedom of association).
People will end up being wards of the State, with little agency in their futures, reduced to mere subsistence, which the State will happily provide, having learned its lesson that starving citizens make poor subjects lacking any docility.
Mind-washing will be introduced. The State will invent scapegoats who will serve as targets of public ire. Divide et impera will be introduced, insofar that citizens will be encouraged to betray other citizens, for the "public weal". Laws will be passed, whereby speech will be tightly controlled, so that no possibility of association between people will be possible.
Finally, the society will become a dystopian nightmare that will see an increase in the societal angst leading to an epidemic of suicides. The New World Order will eventually succumb under its weight when members of the Elite will become decadent and inefficient in their stifling of discontent.
A Grand Revolution will occur that will do away with the accumulated mass of unhappiness permeating billions of dispossessed have nots. It will be bloody and it will produce a great deal of upheaval that will see a reversed order.
An egalitarian society will take its place and will rule by consent of the people, at first. Then, it will crystallize and power will congregate in fewer hands, as it always does. And so the cycle will start over.
One solution may interrupt this vicious circle: direct democracy as a political system coupled with a resource based economy.